Main content starts here, tab to start navigating
Cook Confidently & Mindfully
These are difficult times for fishermen and diners alike.
With closing restaurants, local seafood is hard to sell and harder to find. With our at home meal kits and seafood market you can continue to eat sustainably in your kitchen, cook delicious seafood at home and support your local fishermen and fishmongers.
Sounds like a win-win-win to us. Here's how to do it.
1. CHOOSE YOUR DISH
With six Seamore's classics and oysters to shuck,
you'll forget you're in an apartment.
2. UNPACK YOUR BAG
It's got everything you need, portioned for either
two or four people.
3. CHEF IT UP!
Masterfully cook your fish favorites and curb those
fears for good. Follow our easy recipes in the bag or
check them out online and you'll be a skilled seafood meal
in no time.
Holiday Salmon Roast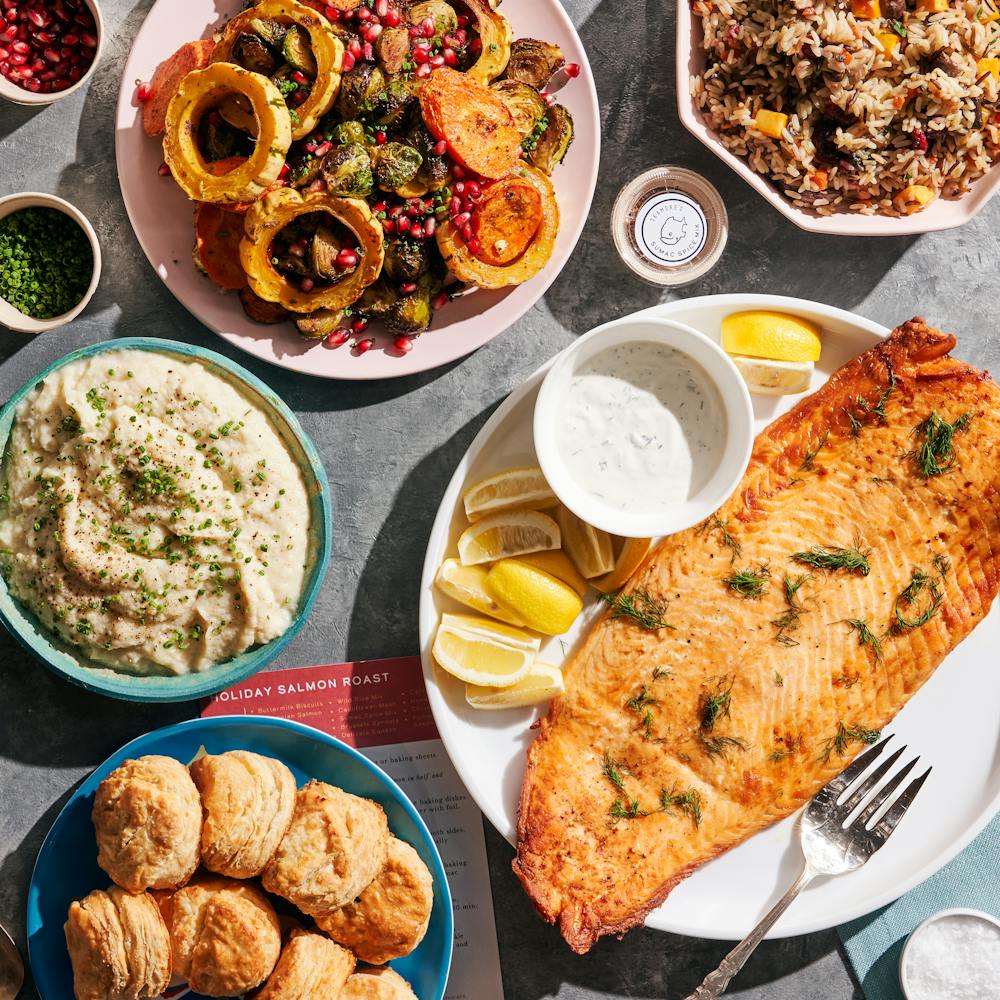 For Four | $160
Enjoy a sustainably-raised roast salmon from the arctic waters of Kvarøy, Norway paired with our creamy dill sauce and sides of sumac roasted veggies, garlic cauliflower mash, wild rice + dried cranberries, and some home-baked biscuits!
Includes: Buttermilk Biscuits, Norwegian Salmon, Kvaroy in the Arctic Circle, Fresh Dill, Lemon, Creamy Dill Yogurt Sauce, Wild Rice + Butternut Squash + Dried Cranberries, Garlic Cauliflower Mash, Sumac Spice Mix, Brussels Sprouts, Delicata Squash, Carrots, Honey, Chives, Pomegranate seeds
Oyster Shucking Kit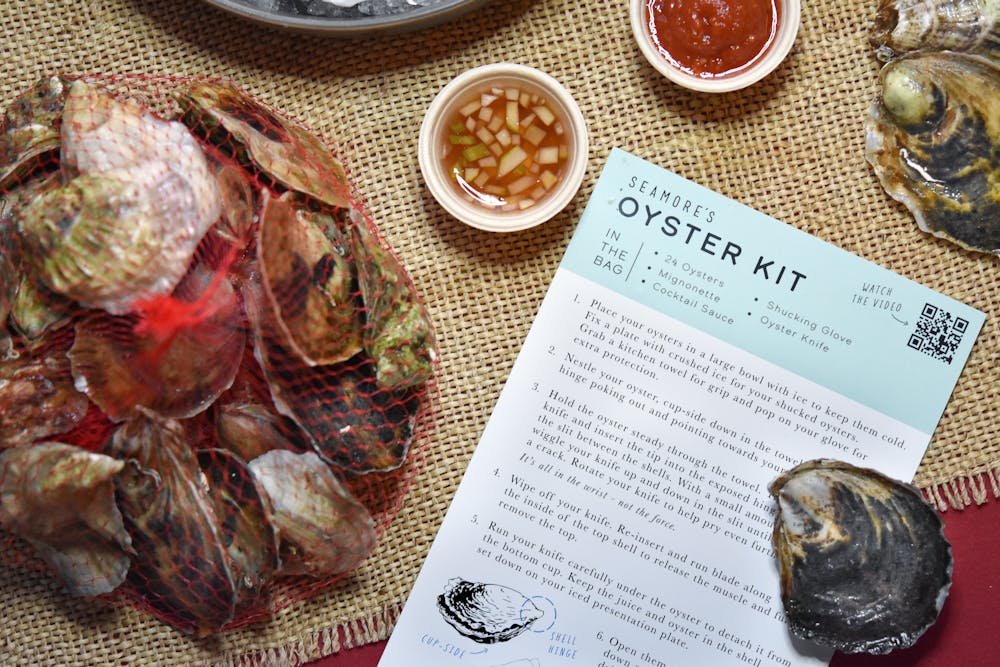 For Everyone | $75
Impress your friends with our oyster kit - cuz you can shucking do it yourself!
Watch our video on the recipe card for easy instructions.
Includes: 24 East Coast Oysters (rotating selection), Mignonette, Cocktail Sauce, Horseradish, Mini Tabasco, Shucking Knife and Protective Glove.
Lobster Rolls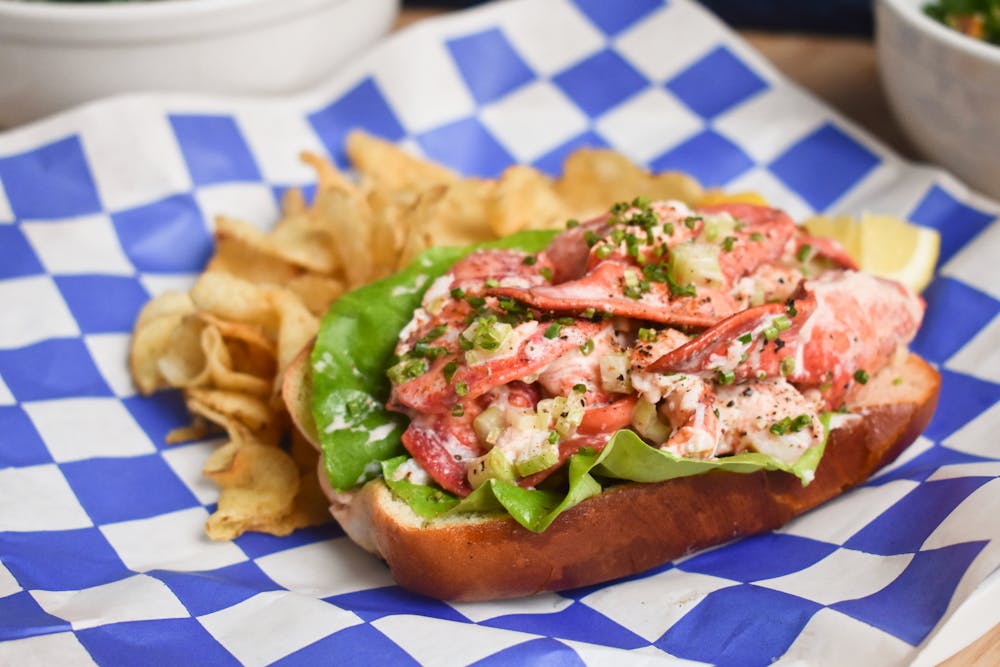 For 2 $65 | For 4 $115
Our tasty Maine-Style Lobster Rolls cooked fresh from your kitchen.
Includes: Maine Lobster, Buns, Mayo, Old Bay Spice Mix, Butter, Bibb Lettuce, Celery, Lemon, Chives, and Cape Cod Potato Chips.
The Reel Deal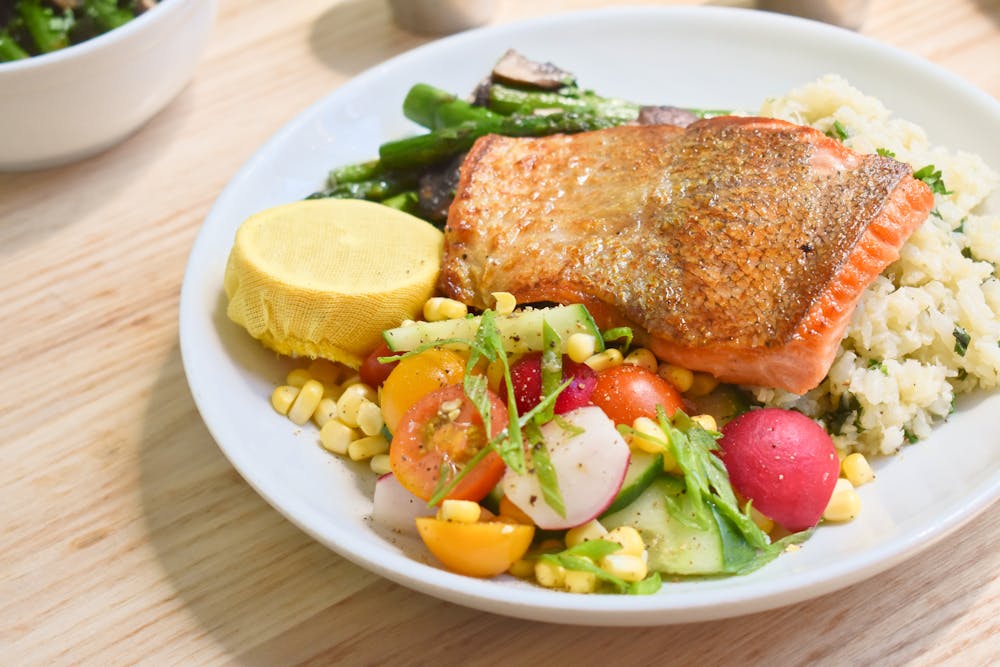 For 2 $45 | For 4 $85
Our signature seasonal Reel Deal fresh off the skillet.
Choose: Hudson Valley Steelhead, Dayboat Montauk Scallops, or our Daily Catch
Includes: Choice seafood, Cauliflower Mash, Asparagus + Mushrooms, Garlic, Cucumber Corn Tomato Radish Salad, Apple Cider Vinaigrette, Scallion, Chives, and Lemongrass Aji Sauce.
View Recipe Order Now View Video
Sriracha Steelhead Burgers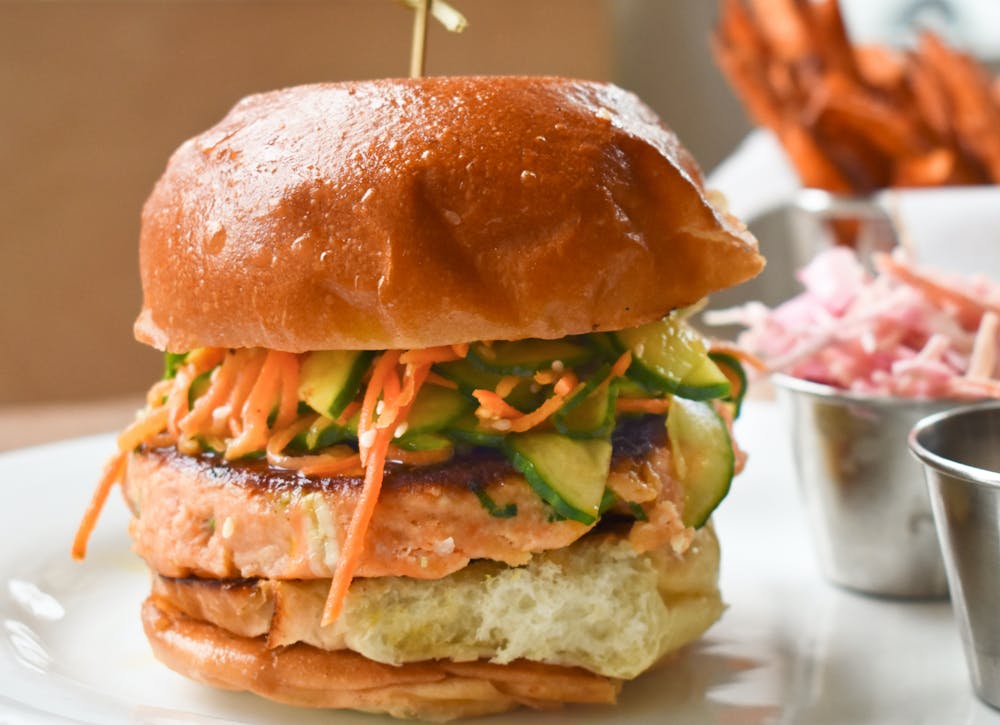 For 2 $50 | For 4 $85
Our local Hudson Valley Steelhead patties with our home baked brioche buns, delivered to your door.
Includes: Steelhead Patties, Brioche Buns, Sriracha Mayo, Butter, Cucumber, Shredded Carrots, Sesame Seeds, Sesame Oil, Cilantro, and Cape Cod Potato Chips.
View Recipe Order Now View Video
Shrimp Tacos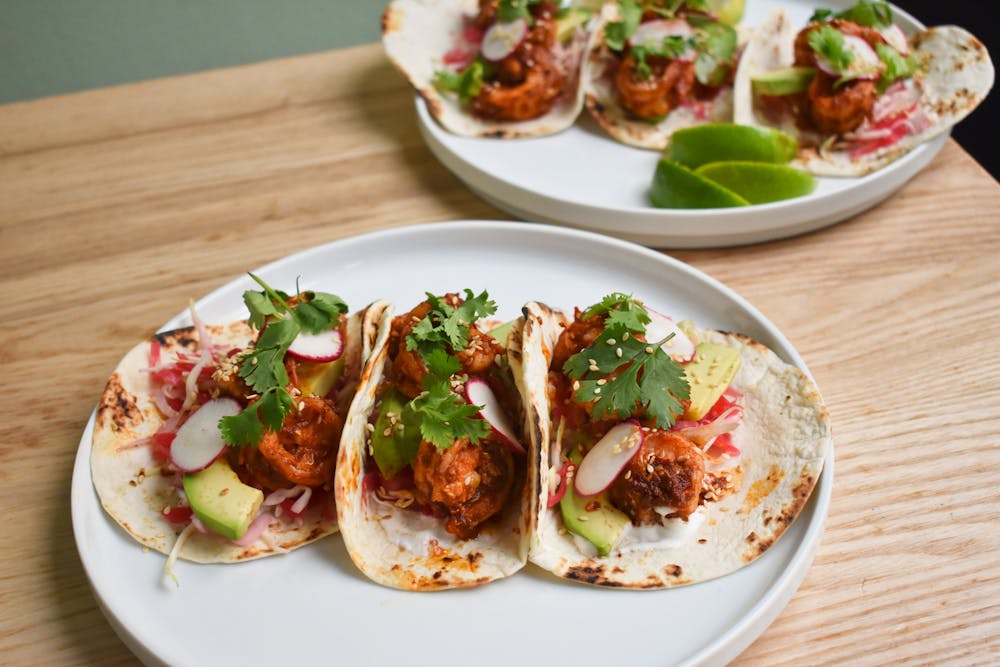 For 2 $40 | For 4 $65
Salsa Macha braised shrimp tacos for your next Taco Tuesday.
Includes: Whiteleg Shrimp, Avocado, Flour Tortillas, Cilantro, Radish, Salsa Macha, Sesame Seeds, Lime Crema, Shredded Green Cabbage and Pickled Red Cabbage.
Lobster Mac + Cheese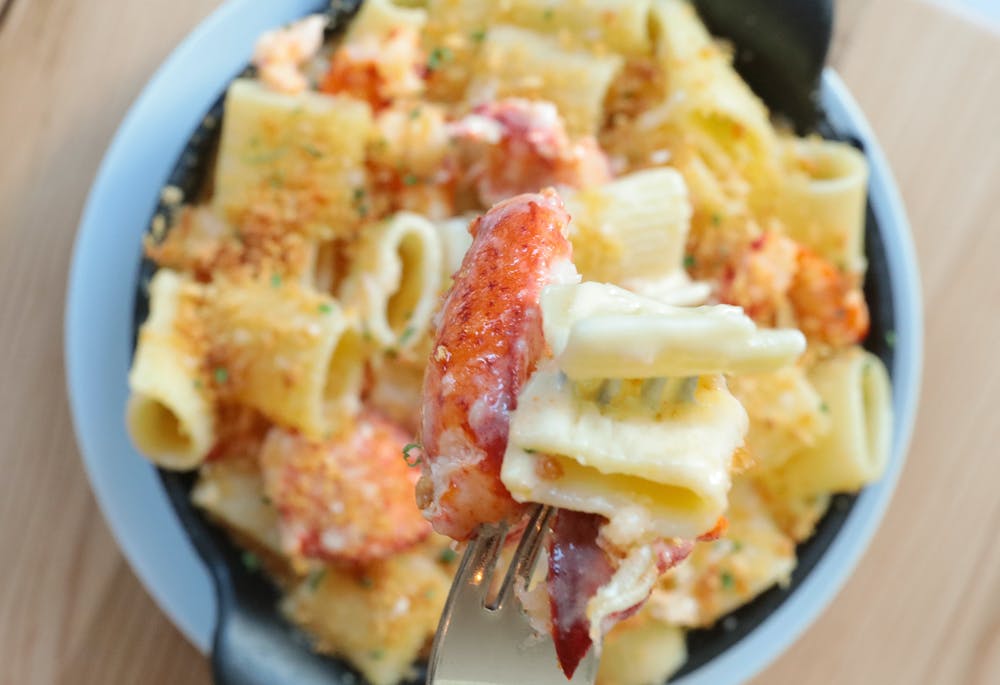 For 4 $95
Baked rigatoni topped with our fresh Maine lobster and breadcrumbs - cheesy and fresh out of your oven!
Includes: Maine Lobster, Rigatoni Noodles, Bechamel, Heavy Cream and Butter.
Side Kale Salad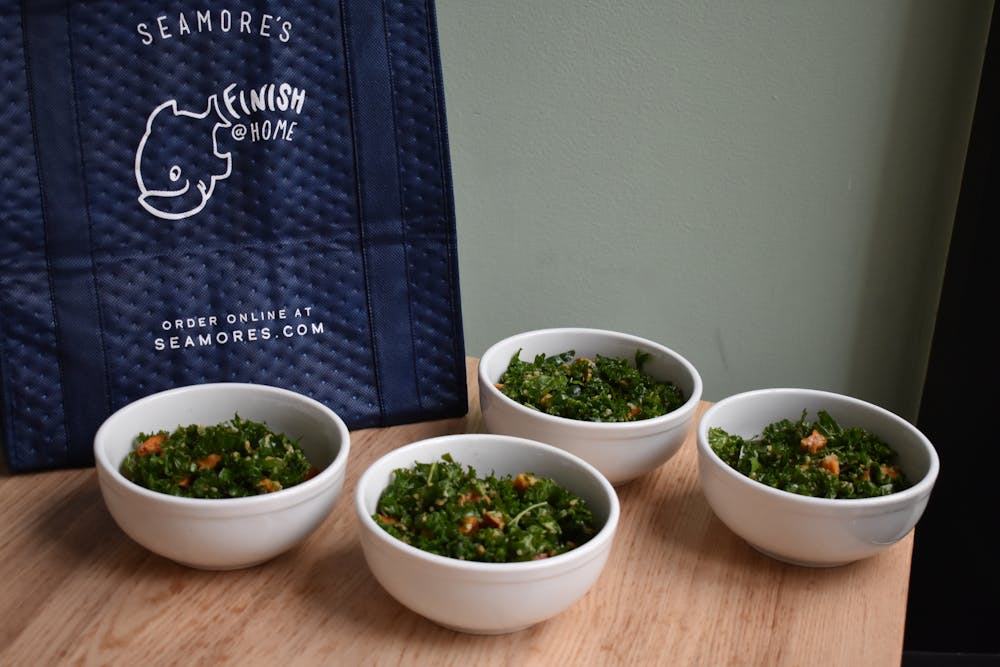 Sided For 4 -or- Main for 2 $25
Delicious green goodness to tack on to any meal kit, or make it your main. Just shake the bag and your work is done.
Includes: Chopped Kale, Sweet Potato, Quinoa, Walnuts and our Honey-Apple Vinaigrette.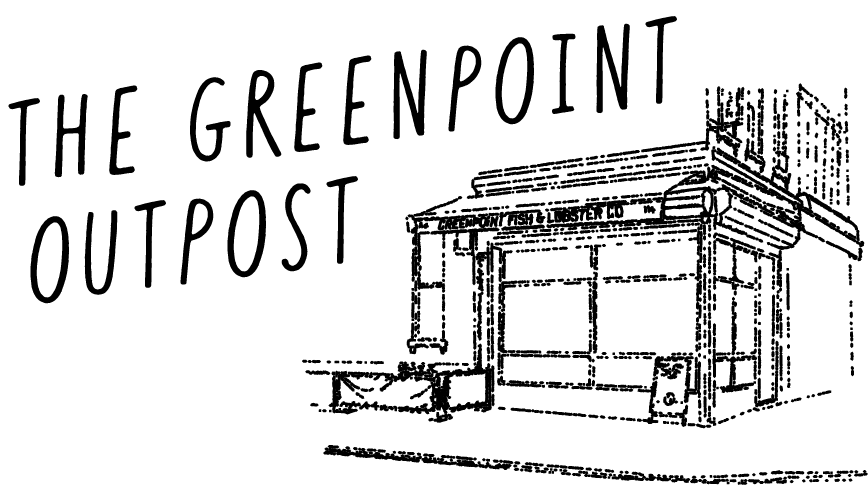 Fresh Seafood, Delivered.
Having more people over? Tack on our sustainably sourced fillets, lobster, oysters and more to your meal kit order at our co-sponsored seafood market with Greenpoint Fish & Lobster Co.
The Shore To Door Promise

For the past three years, we've lived up to our name as James Beard Smart Catch Leader - sourcing every fish on your plate, sustainably. As our dishes extend beyond our plates and into your kitchens, we have a purpose during these challenging times - to keep ocean to table dining alive in our homes.
Every time you enjoy Seamore's at home, you're not only receiving the freshest fish - you're helping support our local fishermen, our dedicated fishmonger and cleaner oceans.
#ShoreToDoor #ReelTakeOut