Dish the Whole Fish
Dish the Whole Fish
You know that our number one priority is to deliver a quality product, as sensibly as we can. We're lucky that freshness, quality, and sustainability are all tightly linked, making our standards easy to accomplish. But other components of sustainability still need to be addressed - like food waste. So this Winter we're pushing ourselves a little harder and using our menu as a tool for change. We're proud to announce our new seafood waste inspired menu to reduce the amount we throw away and raise awareness about a waste problem many restaurants face.
The waste problem
The seafood industry has its slew of sustainability don'ts. But if we're talking climate impact, eating seafood over other meats significantly reduces your carbon footprint. American's also seem to be eating more fish each year. This growth is great from a nutritional and climate perspective, but less ideal from an ecological one. To rise with demand, we will need to increase the amount we fish and farm, or… we can address all the quality seafood we throw away.
From boat to plate, roughly half of all edible seafood is wasted each year in the United States since 2009. But with bycatch only accounting for a fifth of that waste and retail/distribution accounting for even less, an astounding 50-60% of wasted seafood is at the consumer level - in and out of the home. Sadly, restaurants fall in this consumer level and play a significant role in unnecessary waste, pressured by inventory demands and aesthetic consumer standards for seafood.
But with an increase in the amount of the whole fish used in the kitchen and it's subsequent decrease in waste, we could meet over 30% of the gap between what we eat now and the amount we should/will be eating for optimal nutrition.
So what is being wasted and why?
We know the fish fillet all too well. It's how your salmon entree is served or what you see neatly wrapped in plastic in grocery stores. It's meaty, delicious, and plates extremely well. We definitely honor this king cut in our Reel Deals, but we also know there's much more to fish than their fillets... and it usually goes in the garbage.
Many wasted cuts don't look a certain way and therefore aren't plated, like frame scraps, ends of the back meat, or even whole collars - quality delicious meat. The rectangular fillet still dominates and defines fish in American culture.
Tasty collar meat grilled-up has a flavor that can hit the spot like pork belly; delicious back meat and loose scraps usually left from cutting rectangular fillets can be chopped in a curry, seafood stew, or ground into a cake or burger. Heads and tails invoke the smell and feel of the ocean in our soup stock. All these leftovers are delectable, and their only crime is not looking a certain way. Our mission is to change this perception of "junk meat".
Every part can be beautiful.
A Solution - Dishing the Whole Fish
Reducing this waste used to be a necessary exercise and previous generations had it down. The concept of the "whole fish" goes back to the very beginning of fish as food. Each part of the fish in almost all cuisines made it to the dish - eyeballs, tails, bones - everything. In Italy, the traditional "Feast of the Seven Fishes" stew served on Christmas, uses each part of the fish including shells for stock in a two-day cooking process. In West Africa, "Thieboudienne" - a traditional fish and rice dish, stuffs the entire fish (skin and all) with herbs and pepper to then be fried or stewed with the other ingredients.
In making the most out of what was available, creative dishes emerged and crafted unique tradition. Coincidentally, these dishes developed holistic flavors and themes as the same protein had to be used in different ways - a consistency we now frame as a creative choice in the culinary world.
At Seamore's we've gone back to the basics - integrating as much of the fish into our menu items with creativity, accessibility, and a whole lot of taste. And we found it actually wasn't difficult to do. Our menu already contained a variety of small and large dishes that serve fish in different shapes and ways. All we had to do was use our tasty leftovers to make a difference, like our Steelhead Burger. It originally was made with new fillets, ground into patties. We realized how inefficient this was, given all the frame and collar meat we cut that can easily be made into delicious burgers.

Our four highlighted dishes that reduce our seafood waste are our Greenpoint Fish Cakes, Seafood Curry, Fisherman's Stew, and our Steelhead Burger, all available at Brookfield Place, Nolita, Chelsea and Dumbo this winter.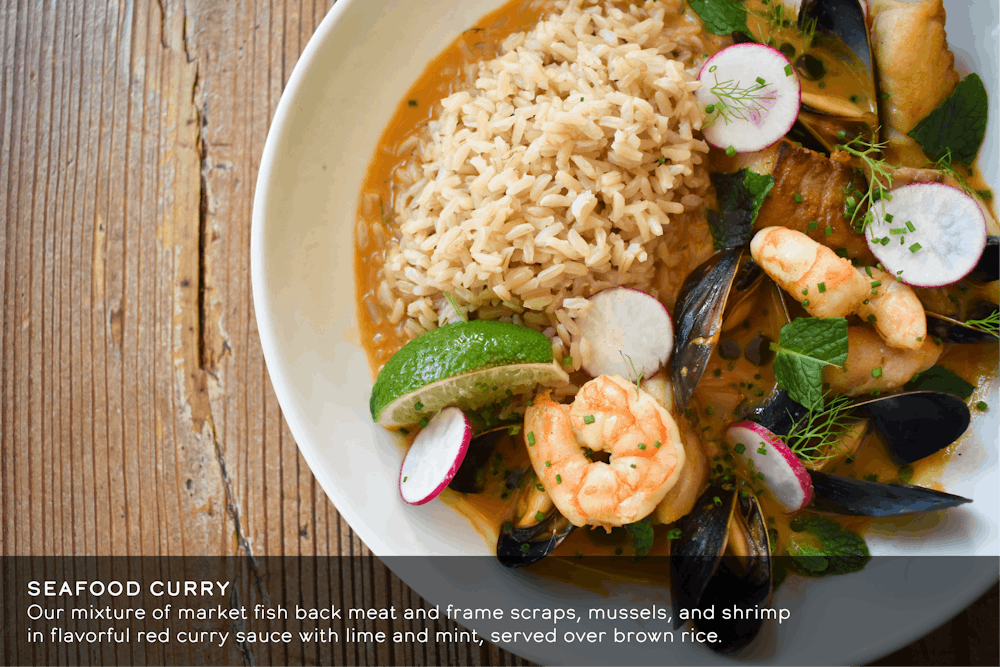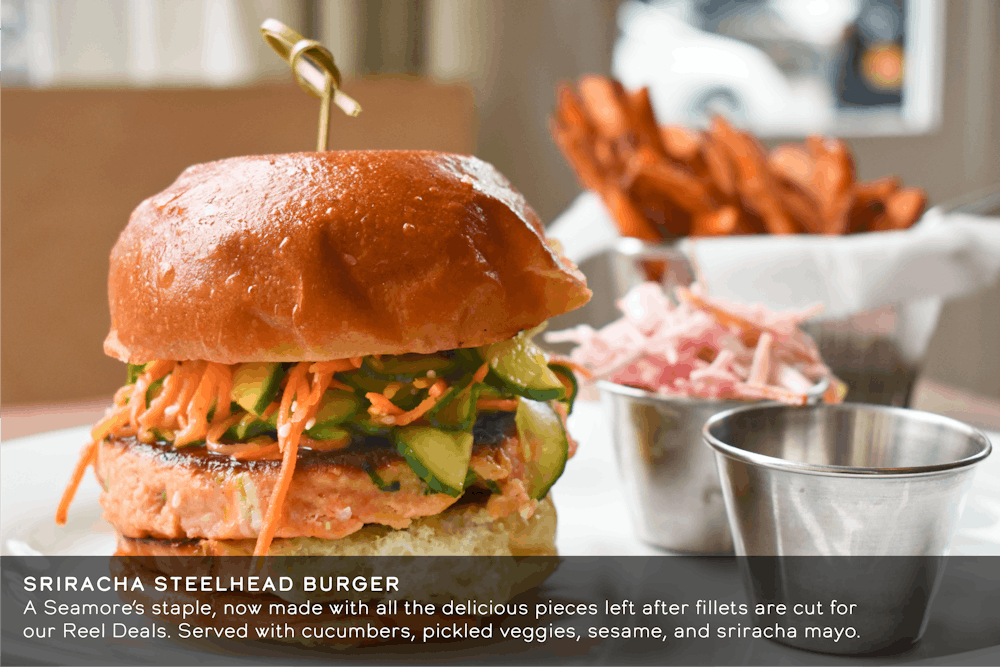 The Greenpoint Fish Cake
We've learned successful paths to sustainability come with partnerships. Sustainable sourcing requires everyone along our supply chain to think sensibly and act responsibly. That's why we're proud to work with our fishmonger, Greenpoint Fish & Lobster, led by our good friend - Vinny Milburn. They're not just our trusted wholesaler - they've made our sustainable seafood possible from day one.
As a Monterey Bay Seafood Watch partner and featured James Beard Smart Catch wholesaler, Vinny ensures his fish are caught or farmed consciously. With a focus on local, line-caught, small-scale fisheries, Greenpoint Fish's landings shift daily - making our menu more versatile than most. In our shared sustainable missions, we're thrilled to make reduced seafood waste a reality together, starting with a fish cake. These Greenpoint Fish Cakes are made entirely from sustainably sourced whitefish scraps in Greenpoint, and don't let your tastebuds down.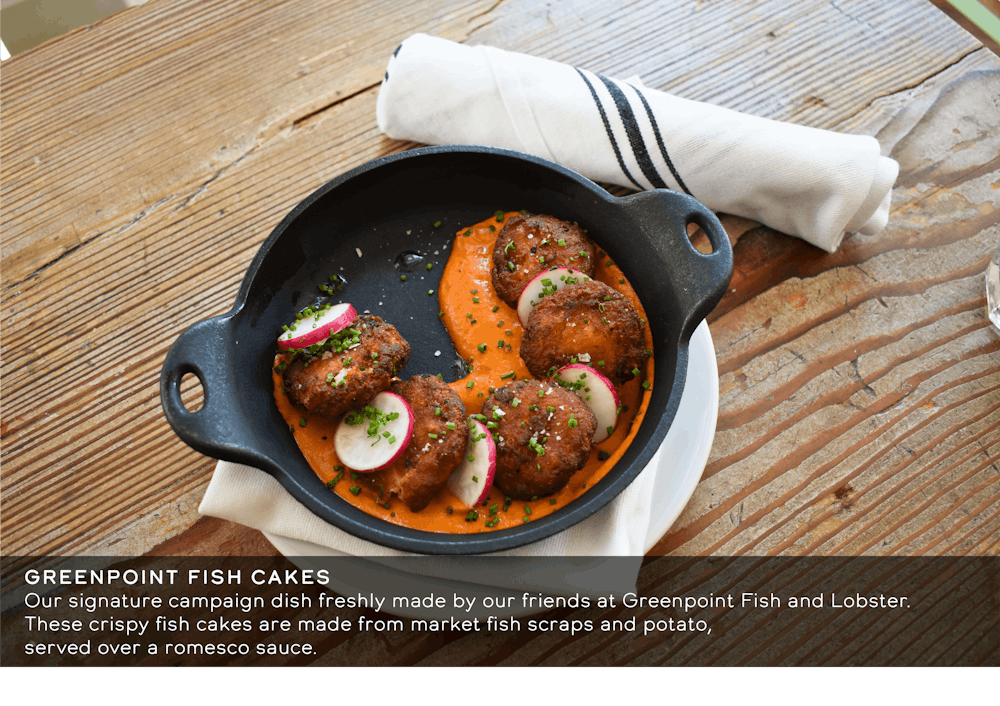 We've always celebrated our daily landings, diverse eating, and wild stock restoration. Doing better is in our blood - and we're excited to enter our next chapter sustainable chapter with you all.
With less waste in our prep, and less left on your plate, we can fill a third of our needs without fishing anymore than we do now. It's not just the right thing to do - it's the smart thing to do.
We can't thank you enough for your hungry stomachs and loving support! If you have any questions regarding our sustainable seafood reach out to me at giovanna@seamores.com.
Don't forget to share the love for our mission with this hashtag when you post us this winter: #wholefishdish